CARE 5K 10K Walk/Run
           
We're looking forward to seeing you on July 4, 2023!!
Bib pick up & registration is from 8:30-10:30 on Saturday, July 1st at Cable Community Center.
The CARE 5k/10K walk run began in 1995 and has become a yearly favorite since.
The CARE 5K Walk or Run and 10K Run are an out and back race that is mostly road for the 5K and the 10K has a mix of road and trail.  The race begins at 8:00 and finishes around 9:15.  Awards are given to winners in ages groups in 10 year increments which are CARE dollars from our $250 level sponsors and will happen at 9:15 am.  All participants will be timed!  Race shirts are included and come in unisex and youth sizes, guaranteed sizes if you register before June 20th.  Adult registration is $35 and children 17 and under is $25.  Water will be on the course and at the finish line with post race snacks.
Sign Up & Register Online for 2023's Race > CLICK HERE
Printable Registration 2023 Registration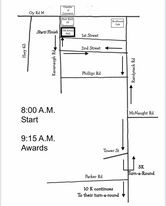 Print Map